The Clear Choice for Digital Health Research
Philips has recently announced plans to discontinue the Actiwatch device line, and we understand that many Actiwatch users need an alternative wearable technology solution to meet their research needs. Fortunately, a significant body of scientific evidence has shown that physical activity, sleep, and mobility measures collected with ActiGraph wearable devices have high concordance to Actiwatch device data (see Table 1 for details).

ActiGraph's line of FDA-cleared, medical grade wearable devices can provide all common digital outcome measures of sleep, physical activity, and mobility, including:
Total sleep time
Wake after sleep onset
Sleep efficiency
Sleep onset latency
Sleep fragmentation
Circadian rhythms

Total movement
Moderate to vigorous PA
Step count
Energy expenditure
Non-sedentary time
Walking speed
To help simplify the transition from Actiwatch to ActiGraph products, we have developed a conversion equation to compare Actiwatch counts data to open-source ActiGraph counts. ActiGraph's team of scientists has also recently finished two studies evaluating state-of-the-art sleep algorithms and developed a new Deep-Learning based algorithm that can work on both Actiwatch counts and ActiGraph counts data. We will update the status of those studies here on this page as they move through the publication process and you can also contact us to learn more.
ActiGraph technology has been cited in more than 20,000 peer-reviewed publications and used in over 200 industry-sponsored clinical trials, a substantial portion of which was to assess sleep outcomes in the home environment. That includes research across all phases of clinical development in neurology, psychiatry, cardiology, respirology, oncology, rheumatology, and other therapeutic areas.
Please complete the form below to request more information or to schedule a meeting with a member of our team.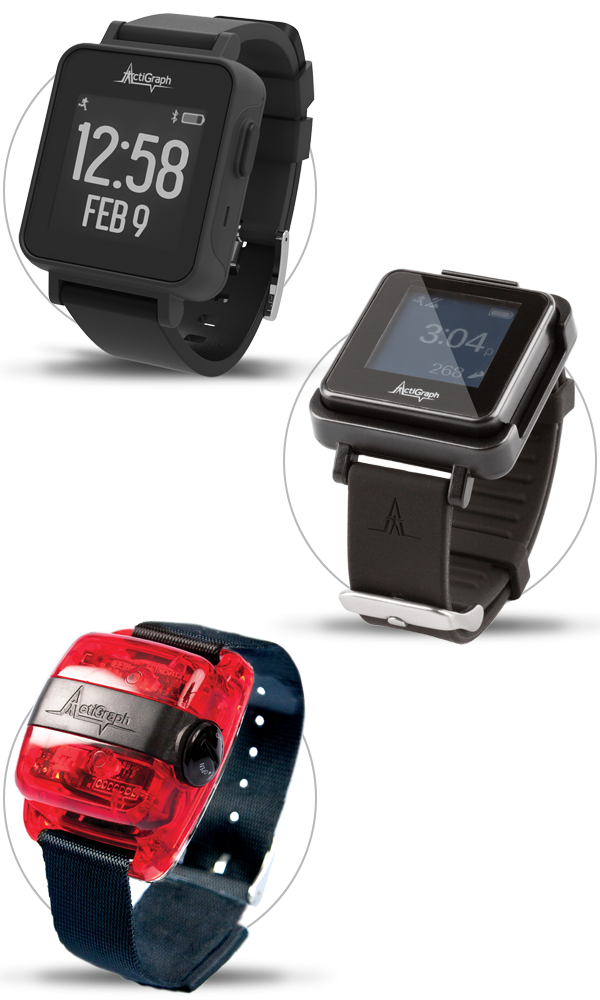 ActiGraph/Actiwatch Comparison Studies:
| | |
| --- | --- |
| Study | Conclusion |
| Lee PH, Suen LK. The convergent validity of Actiwatch 2 and ActiGraph Link accelerometers in measuring total sleeping period, wake after sleep onset, and sleep efficiency in free-living condition. Sleep Breath. 2017;21(1):209-215. doi:10.1007/s11325-016-1406-0 | Results showed that the sleep function of the ActiGraph Link performs similar to a validated accelerometer (Actiwatch 2) and provides an opportunity to measure both sleep and PA simultaneously. |
| Lee P, Tse CY. Calibration of wrist-worn ActiWatch 2 and ActiGraph wGT3X for assessment of physical activity in young adults. Gait Posture. 2019;68:141-149. doi:10.1016/j.gaitpost.2018.11.023 | We showed that wrist-worn Actiwatch 2 and ActiGraph wGT3X-BT were strongly correlated in PA assessment. |
| Neil-Sztramko SE, Rafn BS, Gotay CC, Campbell KL. Determining activity count cut-points for measurement of physical activity using the Actiwatch2 accelerometer. Physiol Behav. 2017;173:95-100. doi:10.1016/j.physbeh.2017.01.026 | The Actiwatch2 is comparable to the commonly-used Actigraph GT3X + for activity measurement. |
| Kemp C, Pienaar PR, Henst RHP, Roden LC, Kolbe-Alexander TL, Rae DE. Assessing the validity and reliability and determining cut-points of the Actiwatch 2 in measuring physical activity. Physiol Meas. 2020;41(8):085001. Published 2020 Sep 4. doi:10.1088/1361-6579/aba80f | AW2 counts were positively correlated with GT3X counts (rho = 0.902, p < 0.001) |
Pioneering the Digital Transformation of Clinical Research